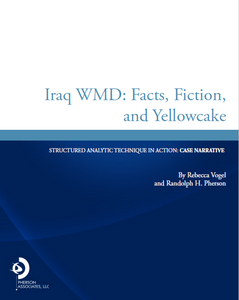 Structured Analytic Techniques Case Study
E-PUB: Iraq WMD: Facts, Fiction, and Yellowcake Case Study
Regular price
$14.95
$0.00
by Rebecca Vogel and Randolph H. Pherson
February 2015
This publication includes a case study narrative, a set of questions to consider when analyzing the case, and a case solution.
The President wanted to say Iraq was developing nuclear weapons but the evidence did not support it. Could a major deception operation be underfoot?
Following the 11 September 2001 terrorist attacks in the United States, attention focused on the potential terrorist threat posed by the government of Saddam Hussein in Iraq and specifically the status of its Weapons of Mass Destruction (WMD) programs. A critical concern was whether Iraq was actively seeking to develop a nuclear weapons capability. The United States and the UK received intelligence reports that Iraqi officials had attempted to purchase "yellowcake" uranium from Niger. Yellowcake uranium can be enriched to produce weapons. This case study shows how Deception Detection, Diagnostic Reasoning, Argument Mapping, and Key Assumptions Check can be used to demonstrate how better analysis could have debunked the yellowcake reporting, providing better support to senior policymakers and decision makers.
Includes one ePub or PDF download on one device, and requires downloading the Flux Player by Flickrocket (free-of-charge).
 The Flux Player supports the following platforms:
Microsoft Windows: Windows XP (Service Pack 2) or newer, 1.5 GHz Intel or AMD processor
Mac: 10.7.2 or newer, Intel processor
Android: 2.3 and newer
iOS: 9.0 or newer
Kindle Fire: 5.1.2 and newer
Chrome OS: 42.0 or newer
---
Share this Product
---
More from this collection