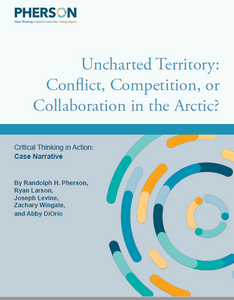 Critical Thinking Case Study
E-PUB: Uncharted Territory: Conflict, Competition, or Collaboration in the Arctic?
Regular price
$14.95
$0.00
This publication includes a case study narrative and a case solution.

Learn how critical thinking skills for focusing on your key clients, establishing the broader context for your analysis, and challenging your key assumptions were applied in this case study.
Rising temperatures and reduced sea ice are creating an uncertain future for the Arctic, an area almost one and a half times the size of the United States. Climate shifts are spurring changes in the demand for natural resources, transportation routes, economic development, and demographics. Russia has warned that countries could be at war over Arctic resources within a decade. The dramatic change coming to the Arctic also offers opportunities to develop mutually beneficial, collaborative relationships to manage emerging challenges. A review of this case study would reveal which key critical thinking principles and techniques were used in answering the following questions:
Who Are Your Clients?
What Is the Broader Context for the Analysis?
Can I Make My Case?
Is My Argument Persuasive?
Includes one PDF download on one device, and requires downloading the Flux Player by Flickrocket (free-of-charge).
 The Flux Player supports the following platforms:
Microsoft Windows: Windows XP (Service Pack 2) or newer, 1.5 GHz Intel or AMD processor
Mac: 10.7.2 or newer, Intel processor
Android: 2.3 and newer
iOS: 9.0 or newer
Kindle Fire: 5.1.2 and newer
Chrome OS: 42.0 or newer
---
Share this Product
---
More from this collection