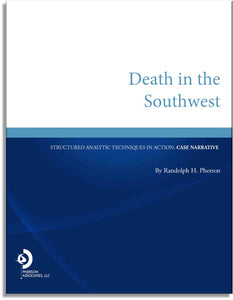 Structured Analytic Techniques Case Study
E-PUB: Death in the Southwest Case Study
Regular price
$14.95
$0.00
by Randolph H. Pherson
September 2020

This publication includes a case study narrative, a set of questions to consider when analyzing the case, and a case solution.
Learn how Diagnostic Techniques would have helped the Centers for Disease Control (CDC) uncover what was causing people to die in Navajo territory.
A mysterious illness was causing people of all ages to fall sick and die in the Four Corners area of New Mexico. Doctors were concerned that a deadly virus would spread rapidly across the region. People were dying and no one knew why. This case study shows how Exploration Techniques and Diagnostic Techniques including Cluster Brainstorming, Starbursting, Key Assumptions Check, and Analysis of Competing Hypotheses could have been used to help unravel the mystery.
Includes one ePub or PDF download on one device, and requires downloading the Flux Player by Flickrocket (free-of-charge).
 The Flux Player supports the following platforms:
Microsoft Windows: Windows XP (Service Pack 2) or newer, 1.5 GHz Intel or AMD processor
Mac: 10.7.2 or newer, Intel processor
Android: 2.3 and newer
iOS: 9.0 or newer
Kindle Fire: 5.1.2 and newer
Chrome OS: 42.0 or newer
---
Share this Product
---
More from this collection