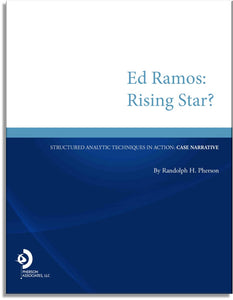 Structured Analytic Techniques Case Study
E-PUB: Ed Ramos: Rising Star?
Regular price
$9.99
$0.00
by Randolph H. Pherson, 2020
Ed Ramos: Rising Star?
This publication includes a case study narrative, a set of questions to consider when analyzing the case, and a case solution.
DEA agent Ed Ramos impressed HQ with the high volume of reports he submitted. Is he a superstar or is there a more sinister explanation for his productivity?
DEA agent Ed Ramos had impressed HQ with the volume of his reporting on drug trafficking in Haiti, but his supervisor in Port-au-Prince was suspicious. Was he a rising star or were there other reasons explaining his productivity? This case study shows how Diagnostic Techniques such as Key Assumptions Check, Multiple Hypotheses Generation, Analysis of Competing Hypotheses, and Deception Detection can be used to frame the problem and bring order to the jumble of data points, assumptions, and information gaps.
Includes one ePub or PDF download on one device, and requires downloading the Flux Player by Flickrocket (free-of-charge).
 The Flux Player supports the following platforms:
Microsoft Windows: Windows XP (Service Pack 2) or newer, 1.5 GHz Intel or AMD processor
Mac: 10.7.2 or newer, Intel processor
Android: 2.3 and newer
iOS: 9.0 or newer
Kindle Fire: 5.1.2 and newer
Chrome OS: 42.0 or newer
---
Share this Product
---
More from this collection